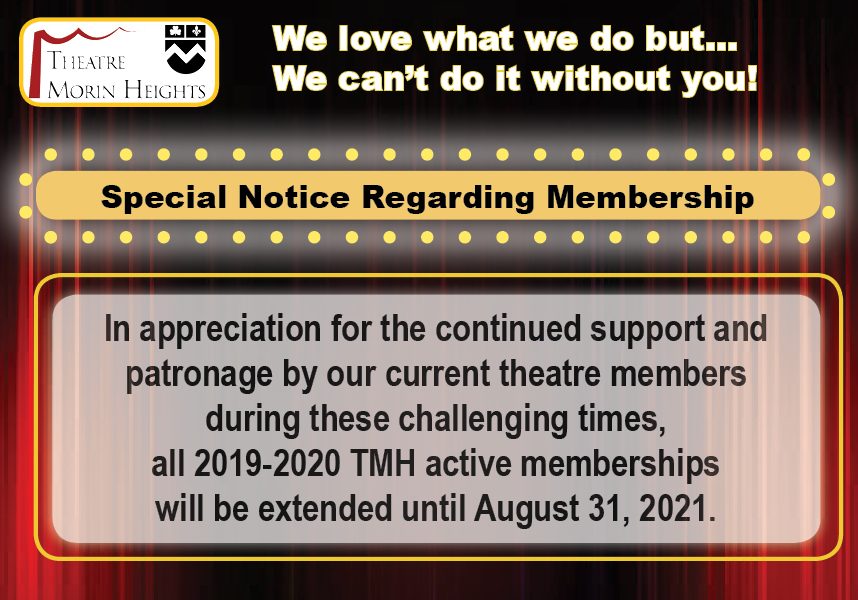 Theatre Morin Heights, like any community theatre, is only as strong as its supporters.  There are many ways to support us but the most important is to BECOME A MEMBER!
Our members are the lifeblood of our organization and their passion for a theatrical life is what makes Theatre Morin Heights exciting and creative.
2020 / 2021  NEW MEMBERSHIPS WELCOME
Valid from September 1 , 2020 to August 31, 2021
Your $15.00 membership in important to us! TMH is a non-profit organization and your membership fee enables us to bring quality live English theatre to the Community.
As a non-profit, volunteer, community organization, Theatre Morin Heights depends on the invaluable time and effort of its membership for its continued success. All members are encouraged to fully participate towards the organization's goal of providing quality theatre experiences to our audience.
This season we are operating under unusual circumstances. We have adapted our regular theatre lineup to feature 'Staged Play Readings" over the course of 6 weeks, 3 times a week with 3 different one act plays by David Tristram on a rotating schedule for your enjoyment...from September 25 to November 8th at the Chalet Bellevue. We look forward to seeing everyone again and hope you enjoy the show!!!!
If you would like to become a new member, please complete our Membership-Application-and-Form-2020-21  Memberships can be renewed by selecting the 'Renewal' button below.  We already have all your information so nothing else is required to complete your renewal.  However, please let us know if your contact information has changed in the past year. Also note that 2019-/20 memberships have been extended for a year to August 31, 2021.
YOUR SUPPORT  IS VERY MUCH APPRECIATED
*NOTE: An extra $0.76 will be added to each membership purchased online to cover fees.