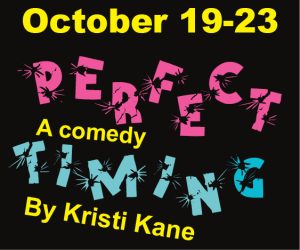 Get ready for a laugh-filled riot with this production of "Perfect Timing" by Kristi Kane. This drawing room comedy is filled with witty repartee along with mistaken identities and confused love triangles.
October 19-23, 2022
At Chalet Bellevue, Morin Heights (27 rue Bellevue)
TICKETS NOW ON SALE $20
Beat the rush and get seats for the show you want!
Due to popular demand...we've added an extra matinee this year!
 
SHOW DATES AND TIMES
(4 evening shows and 2 matinees)
Wednesday, Oct 19 / 7:30 pm
Thursday, Oct 20 / 7:30 pm
Friday, Oct 21 / 7:30  pm
Saturday Oct 22 matinee / 1:30 pm
Saturday Oct 22  / 7:30 pm
Sunday, Oct 23 matinee / 1:30 pm
How To Purchase Your Tickets:
"Perfect Timing" tickets are available through the Morin Heights Municipal Website (link below).
Tickets may also be purchased in person at the front
desk of Chalet Bellevue (27 rue Bellevue, Morin Heights)
TO PURCHASE ONLINE, PLEASE READ THESE INSTRUCTIONS PRIOR TO ACCESSING THE LINK. 
• The link below leads you to the Municipality of Morin Heights website.
• Chose the "Online Services" Drop down menu and click on "Online Registrations."
• Then click on "Events" to arrive at the ticket purchase page.
• Ticket options are organized by performance date and time.
• If purchasing more than one ticket, be prepared to enter the names of all ticket holders.
(Note that it may be easier to view all of the menu options on a computer or tablet.)
MH WEBSITE > ONLINE SERVICES> ONLINE REGISTRATIONS> EVENTS
PURCHASE TICKETS STARTING HERE:
If you have any questions or require assistance when making an online purchase call 450-226-3232 ext.132